High-speed, minimalistic motorcycles are best known for their cafe racer style. Leather jackets are the ultimate "cool guy" jacket, and the cafe racer takes it to another level. They are simple and snug fitting with a short banded collar – you won't want any extra fabric flying around when you're going fast. Cafe racer motorcycle jackets share their name with these lightweight bikes that have made their mark in fashion history as a piece that has stood the test of time. These best cafe racer motorbike jackets are not only useful for those who ride, but they have also made an impact on fashion scenes by being one of the few pieces that have remained stylish throughout history.
In hurry? Here are 7 Best Cafe Racer Motorcycle Jackets:
Whether we like it or not, the black leather motorcycle jacket is a worldwide fashion icon, so we can't really blame those silly old celebrities for wanting to hijack the biker look in an effort to look cool. But if we're going to go back to the beginning and see its humble origins, zip- up your leather, jump on the back and let's take a ride down memory lane.
People have been wrapping hides around themselves for a couple of thousand years, but it wasn't until the Romans made those wicked-looking leather breastplates with the built-in 6-packs that leather got cool. Fast forward a millennia or so, and thanks to Irving Schott in 1928 and his specifically designed zip-up leather motorcycle jacket, the 'Perfecto,' the Cafe Racer jacket that we know and love, made its first appearance.
The rules that dictated the design way back then are exactly the same now. In other words, a hard-wearing shield against the elements that can be closed to the top, low enough to protect the kidneys yet short enough to be able to bend forwards to the handlebars. So, without further ado, let's take our usual look at the top, middle, and bottom-priced leathers currently available.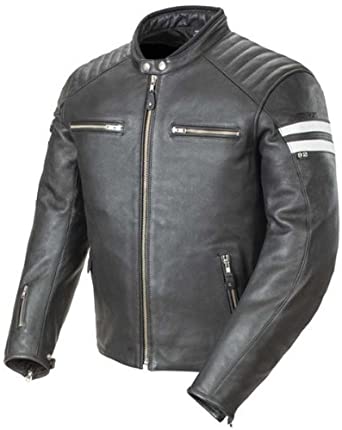 The Joe Rocket Classic '92 Jacket brings back all the elements that made this style an icon. Called the best motorcycle jackets by many riders, this piece covers what you need to take on your day with confidence and style. The leather is drum dyed for a luxurious look, stitched for durability, and has outside pockets with one inside pocket. This jacket also provides armor options for added protection when needed! Finally – it's available in black or brown to match any ride you can think of – whether cruiser or chopper!
The Joe Rocket Classic '92 Men's Leather Motorcycle Jacket is a timeless and stylish piece that will go with any biker or rider. Customers say it does what you would expect:
Covers the essentials;

Has armor options for added protection;

It comes in black or brown to match your style preference.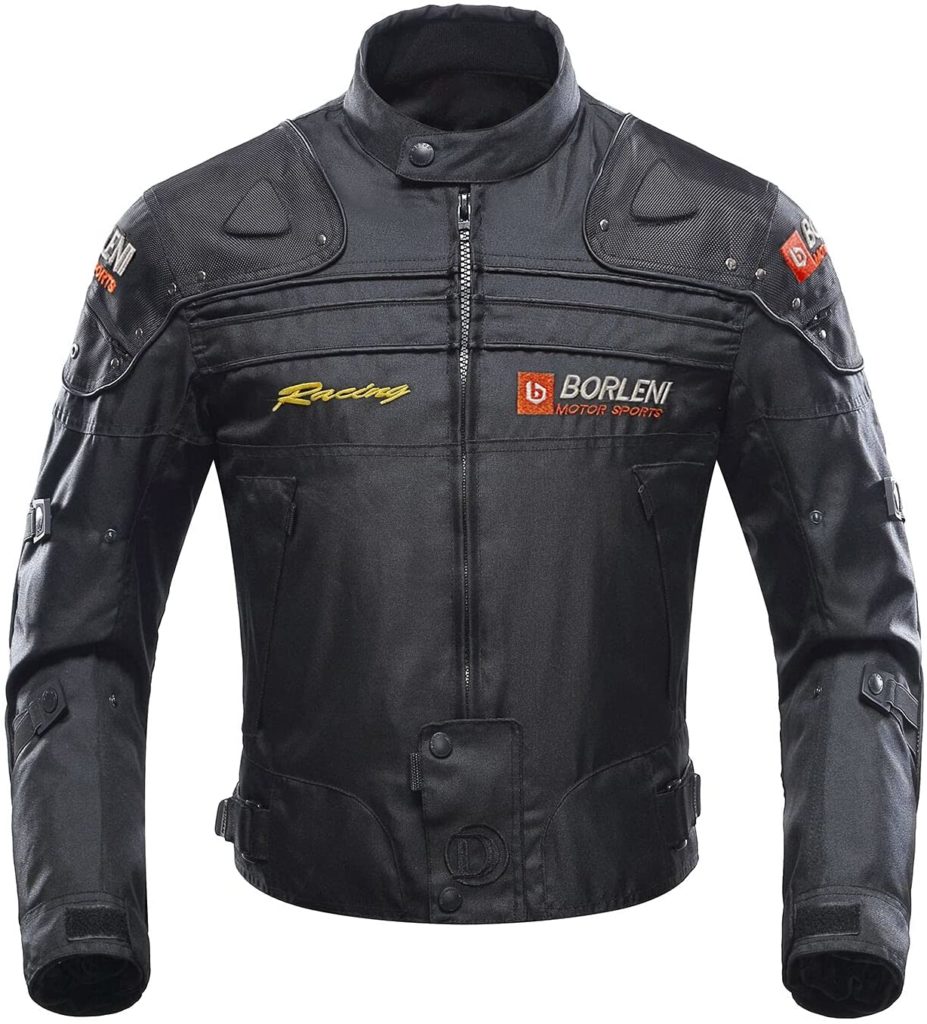 It's time to get your season wardrobe just right with this all seasons motorcycle jacket from Amazon! It has a 5-star rating and over 2500 positive reviews with a price that has no competition. Isn't this best cafe racer motorcycle jacket worth it?
The jacket suits riders of all shapes in any season. The removable liner keeps you warm in the winter and cool during summer, while four CE protectors keep your shoulders, elbows, and back safe from damages caused by falls on the road or at home. With a zip-off hoodie for warmth on early morning rides before it gets too cold outside, this is an essential piece of gear for any rider's wardrobe.
Every adventure has its risks. That's why this full-body motorcycle jacket will keep you protected on your next ride, with features that focus on mobility and safety. With heavy-duty zippers to protect your valuables in low light, an adjustable cuff for the perfect fit, a collar/brim for extra coverage against windy weather, and reflective material to make sure no accidents happen at nighttime-this is the outerwear you need.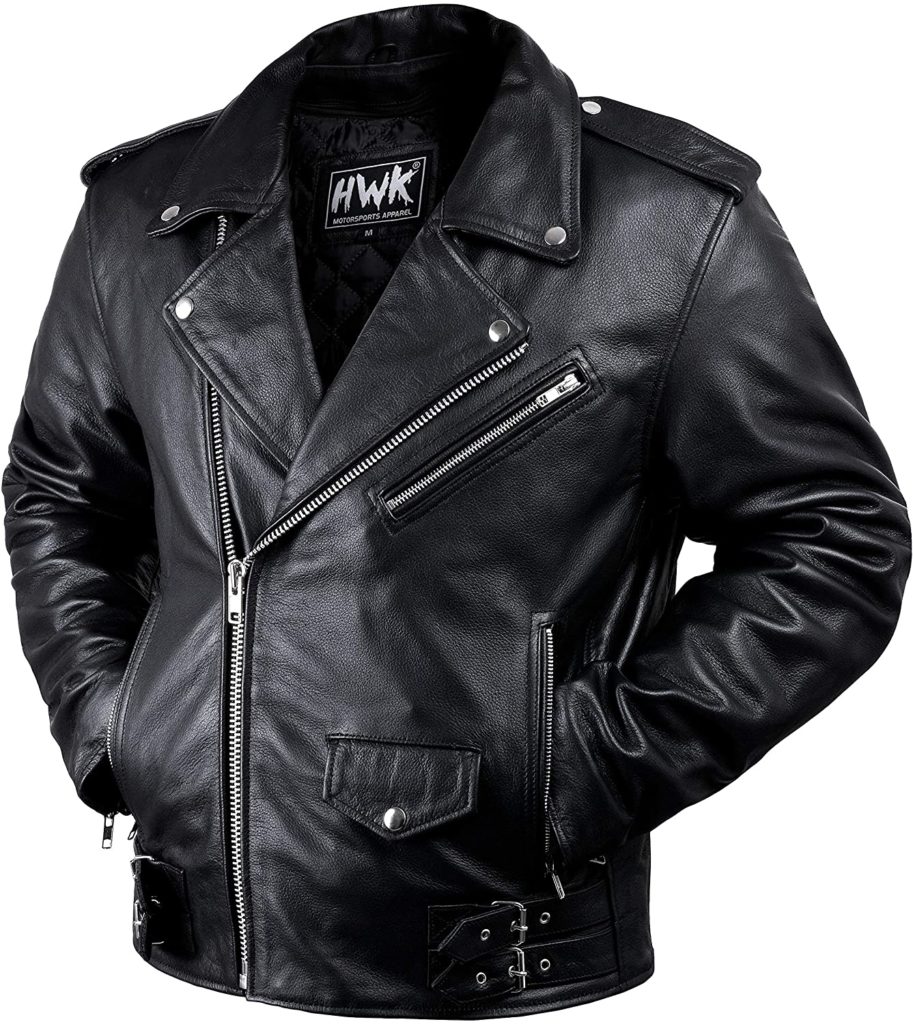 The high-quality and durable all-season leather jackets from HWK can be worn in any weather, no matter what season it might be. More than 1,000 happy customers share their opinion with this product on amazon – 5 stars for sure!!
Rainy weather is no problem for this jacket. It has a thermal lining, so it will keep you warm in cold weather. And it has a lifetime warranty so you can be sure that your jacket is perfect!
Armors are on the back, elbows, and shoulders of the jacket. The zippers are YKK, and there are rust-free buttons.
It is definitely a great decision to purchase this leather jacket, as I have never seen such an attractive and stylish jacket for such a low price.
No matter what type of bike riding you're into, this jacket will fill all your needs with the right amount of protection and style. It's a fitted style that is comfortable while being protected from the elements. And since it accommodates layers under or over, who needs a bulky coat on top? The zipper provides a lot of ventilation when zipped open, which is cool in warm weather and allows for some air movement on windy days.
This motorcycle jacket offers everything I need, from reflective piping to an ample pocket space, including padded hip pockets to ride hands-free. The length is just right, so there's no interference while handling my bike, and yet it covers my rear if I'm leaning forward, so I don't get wet from the rain.
The Alpinestars Men's Crazy Eight Leather Motorcycle Jacket is a perfect addition to any rider's gear, and I'm sure it will be for you too! If all of this sounds good enough to snatch one up today—you're not alone. Thousands of Amazon customers agree with me: "This jacket is awesome!"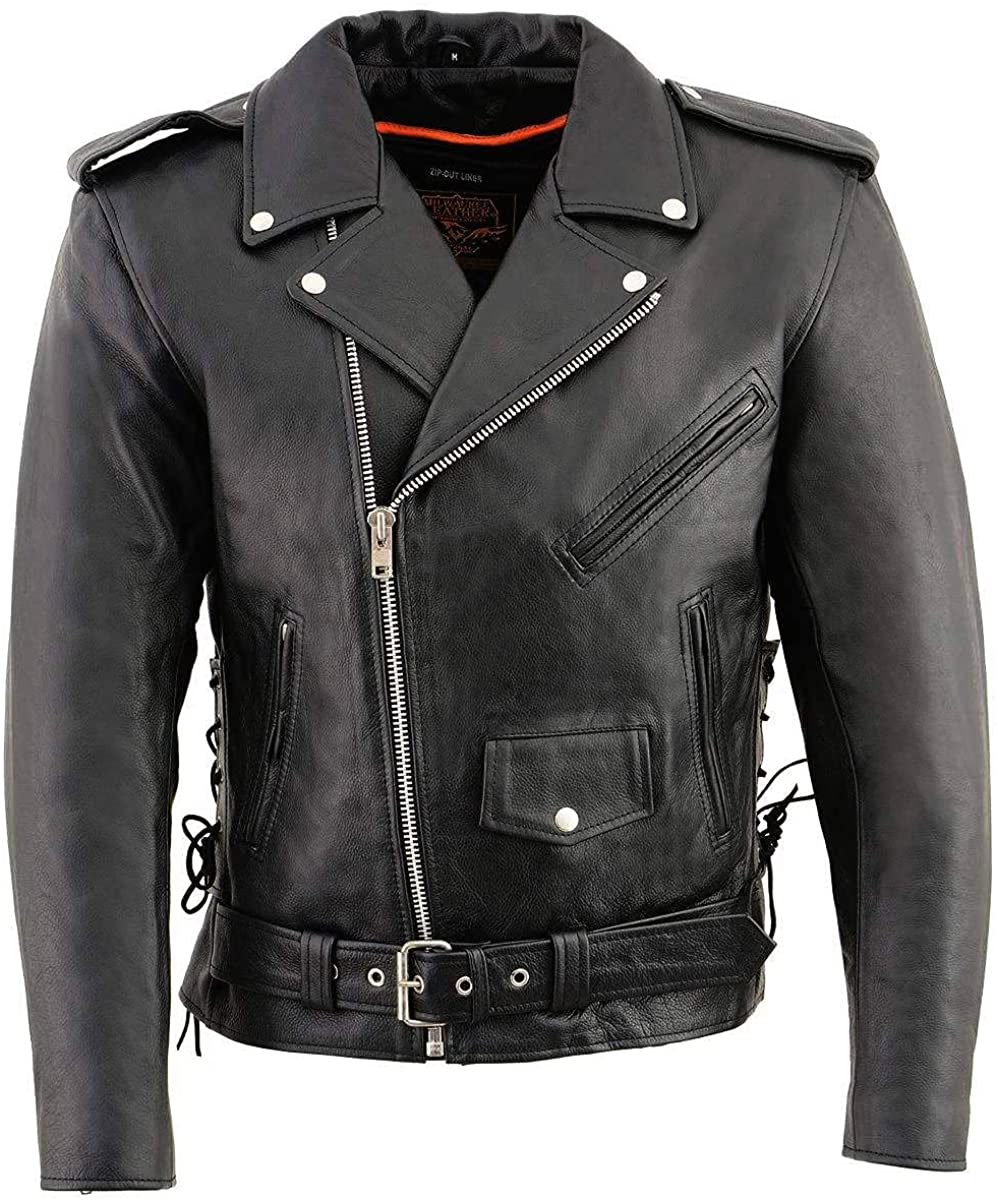 You know that feeling when you get your first leather jacket as nothing else can match? The feel of the material against your skin and how warm they make us feel. Now imagine having this same experience with these police-quality motorcycle jackets! This particular model comes with complete side lacing detailings, so there are no worries about fitting or adjusting while riding. Their adjustable half belt lets users easily adjust for comfort.
People seem to enjoy that they can get that "first jacket" feeling back with this jacket – especially at this great price for an attractive and high-quality leather jacket! With more than 1800 reviews so far where people rate this product as a perfect five stars, it's clear why Milwaukee is loved by riders everywhere.
This jacket is the perfect gear for those biker enthusiasts who enjoy riding their motorcycles. Packed with enough pockets to really make this garment stand out, the Event Leather Motorcycle Jacket is made from 6 different types of leather sourced in America and European cowhide together, which gives it a strong emotional appeal for anyone who admires quality craftsmanship. The price point on this product is about average but look at all that you are getting! Don't forget that you can also use this item as an underlying protective covering to save your other clothes when riding motorcycles or bicycles.
Customers love wearing this jacket as an underlying protective covering to save their other clothes when riding motorcycles or bicycles. Event Biker Leather Men's Basic Motorcycle Jacket with Pockets from amazon is well worth the price, and customers say you won't be disappointed! This product has a 4.4-star rating on Amazon from over 795 reviews, which shows that people are happy with what it offers for a reasonable cost. If any of these traits sound appealing to you, then don't hesitate to purchase today!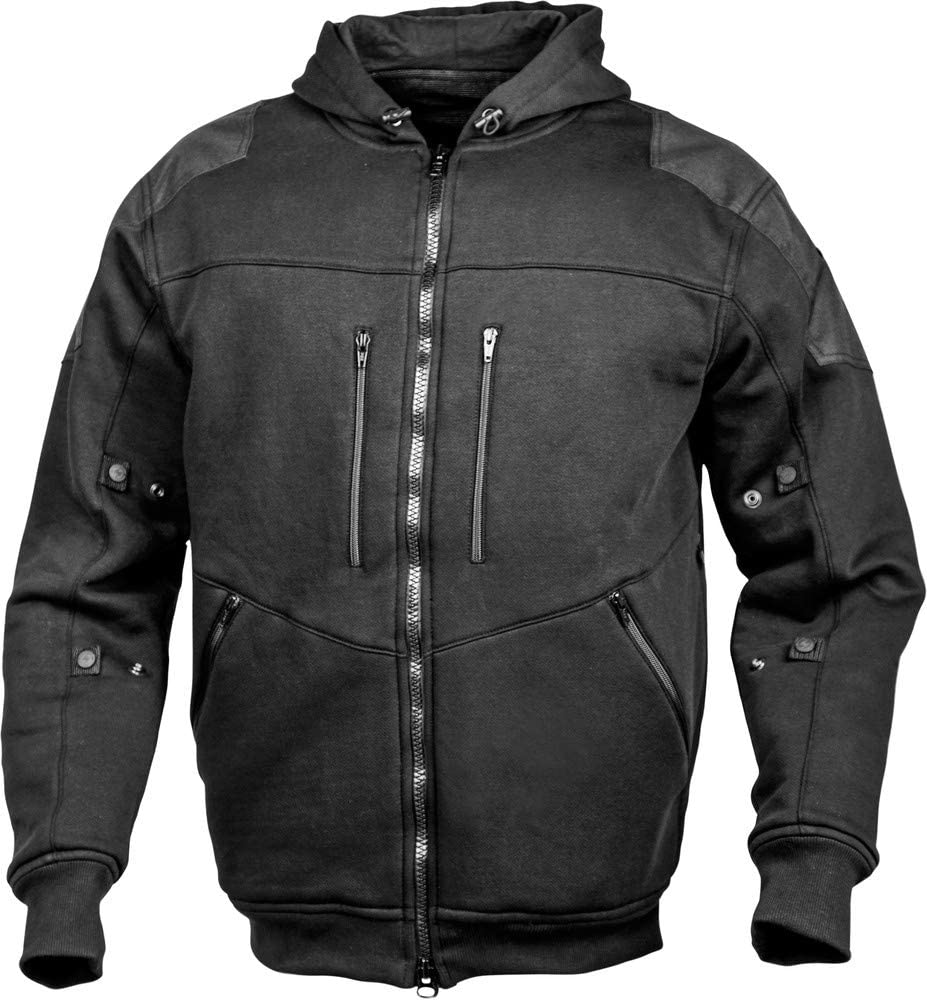 If you want to ride your Cafe Racer style motorcycle without feeling like an older man but don't want the traditional gear of jackets- straps and big logos? The Covert Hoody is perfect. It still has that shortcut with full mobility for reaching forward on handlebars while looking more modern than most other jacket styles out there today! It's made from nice cotton material, yet it is still protective with CE-approved armor in the shoulders and elbows.
The perfect riding hoodie for those who ride with armor, the new Full Tilt™ line is designed to provide five times more abrasion resistance and 15 times that of typical cotton. Beefy shoulders & elbows combined with 600D polyester reinforcement deliver CE Level 1 impact protection while still allowing mobility in all areas. Three pockets on each side hold the included shoulder-mounted SasTec Flex Guard, or you can purchase optional pieces such as a back protector pocket (sold separately) if needed – giving your ultimate body defense against anything mother nature throws at it!
What You Need to Know Before Best Cafe Racer Motorcycle Jacket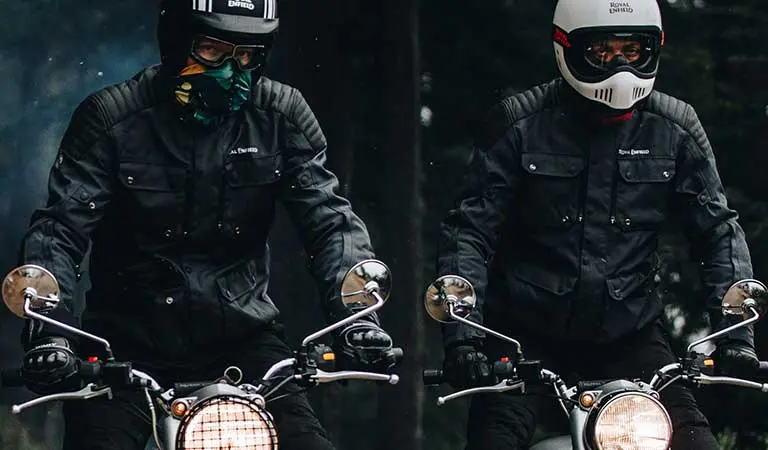 Motorcycle jackets are key to protecting yourself when riding a motorcycle, especially if it's in the cold. The following guide will provide some tips on how to choose the right type of jacket for you.
There are many different types of jackets out there, so it's important to know the qualities you want in a jacket so that you'll be able to narrow down your search. A few things to think about are warmth, price, fit, protection, and durability.
Warming is an important feature when choosing a jacket because not all are created equally. There are three levels of insulation:
100 g (a little warmer than most)

200 g (good for very cold mornings and evenings)

300 g (colder temperatures)
Motorcycle jackets are not the cheapest pieces of clothing out there, so it's important to choose one that fits you well. Make sure that your sleeve length is correct and tuck in any excess shirt or sweater if needed. Also, make sure there isn't an overabundance of fabric around your midsection, as this will affect your ability to lean with the bike.
Protection is another key feature that's important when choosing a motorcycle jacket. It should protect you from wind, rain, and snow, as well as impact protection through high-density padding in some areas like shoulders and elbows.
The last thing you want is your new motorcycle jacket to wear out quickly, so durability is an important factor to consider when shopping. Make sure that the stitching and zippers are strong and won't break easily during use.
FAQ
How do I know my motorcycle jacket size?
Measure in inches around your chest, bust, or waist where you want the jacket to fit. To be sure, measure the coat in its new condition (not stretched out) and make sure to add several inches (around one size) for movement. Then compare your number to the size chart provided by the manufacturer, and you will be able to find the right fit.
What is a good motorcycle jacket for warm weather riding?
When it comes to finding a great summer-time motorcycle jacket, look at jackets made from mesh or leather with cooling vents that allow airflow inside of them. Jackets like this will help you stay cool and comfortable while riding in the hot weather.
What does a motorcycle jacket look like?
Motorcycle jackets come in many different styles, colors, and designs, so it's important to know what you want your new jacket to look like before shopping for one. Jackets can be made from various materials such as leather or nylon and have different features to help protect you when riding.
What are some good motorcycle jackets to wear in the rain?
Motorcycle jackets made from nylon are a great option because they are water-resistant, which means it'll take longer for them to get soaked through by rain or snow. Jackets with leather outer shells also do well against precipitation, but it's important to ensure that the jacket has a waterproof membrane like Gore-Tex or eVent.
What is the best motorcycle jacket for cold weather riding?
Motorcycle jackets made from leather with 200g insulation are great options because they'll keep you warm in temperatures as low as -20 degrees Fahrenheit. Jackets with removable insulated liners can also be worn in colder temperatures and will help trap heat inside the jacket.
What is a good motorcycle jacket for durability?
Leather jackets are typically very strong and durable, but nylon ones can also last longer with high-quality construction like YKK zippers and heavy-duty stitching. The right fit is important, too, so look at the size chart before buying and make sure there aren't any empty spaces in the jacket.
What is the best motorcycle jacket for women?
Women's jackets are typically shorter in length than men's, but this doesn't mean you can get away with wearing your boyfriend or husband's old one. Jackets made specifically for ladies will have a more fitted silhouette and be proportioned to fit around the hips instead of the waist. The best material for ladies is leather, but nylon jackets with feminine features like a higher neckline and shiny accents are also great.
What is a good motorcycle jacket for protection?
To stay safe, you'll want a jacket that has lots of padding on the shoulders and elbows as well as chest protectors, which can help absorb impact if you ever fall off your bike. Jackets with armor pockets to upgrade over time are also great options because it means more protection for you.
Is a leather jacket enough for riding a motorcycle, or do I need armor pads?
It depends on what you are doing. But I always suggest having maximum protection. These days there are so many cool designed jackets that you sometimes even don't know that there are armor pads inside.
What is the best motorcycle jacket for a larger guy?
One of the best ways for a larger guy to find a motorcycle jacket that fits is to try on one that has high adjustability in the shoulders. This will help fit the jacket around your body more easily and give you enough room to move around. You're looking for a jacket with the most shoulder pads possible!
What type of motorcycle jacket do bike police officers wear?
Typically, motorcycle police officers wear a heavy-duty jacket that is made from nylon and has good ventilation. Police jackets can also be upgraded with body armor and more arm and shoulder padding for better protection.
Final words
If you are looking for a motorcycle jacket, it is important to know what type of material and design will suit your needs. Motorcycle jackets come in different shapes and sizes, so take some time to think about what features would work best for the way that you ride. For example, if rain or snow might be an issue when riding, water-resistant nylon may not be a good idea! Be sure to consider all aspects of the materials and how much protection you need before making any purchase decisions. With this information in mind, we hope that shopping for a new motorcycle jacket becomes easier than ever with our help!