Fancy giving your motorcycle the Custom Bobber look? Read on…
For the majority of people who have forked out their hard-earned cash to finally own that dream bike, the first thing they want to do is customize their ride in some way, just to put their own mark on it and differentiate their machine from the rest of the herd.
Now, if you've been to a 'bike night' at a local bar, or on a Sunday morning ride to a local bike friendly venue, you'll probably notice that when it comes to customizing, adding a few stickers appears to be pushing the envelope for a lot of people. However, if you've landed on these pages, chances are you're more inclined to tread a more radical path.
When it comes to customizing your ride, beauty as they say is very much in the eye of the beholder and regardless of which direction you choose, the Custom Bobber, despite its humble origins, has now established itself as one of the premier sectors in the Custom hall of fame. Born out of the need to shed excess pounds from the 2 wheeled behemoths of the 1940's and '50's, the humble Custom Bobber still provides the base for everything from a cheap makeover you can execute in your garage over a weekend, to a full-blown, ground-up build, to show off the skills of the world's top bike builders.
To show you the flexibility of the Custom Bobber here are three examples that go from mild to wild and more importantly show just how all-encompassing this segment of Custom biking truly is.
The first bike is a classic example of just how easy it is to customize your ride with the minimum of fuss and expense. According to owner Ron, he bought it as a bog-standard CSR650 and by sticking to the basic rules of bobbing, i.e. altering the mudguards, handlebars, lights and seat and adding a rattle-can paint job, created a great looking and very useable Custom bike.
On the opposite end of the scale is this jaw dropping Indian Scout Custom Bobber, which although costing well into five figures to build, still adheres to the basic Bobber principle of cutting down the original. Built by American Biker, of Charleston in North Carolina, they took a 2016 factory fresh Indian Scout before adding their unique twist of paint, parts, brass plating and fabrication. The leaf spring forks are a modern-day version of the ones which graced the original Indian's of the 1940's.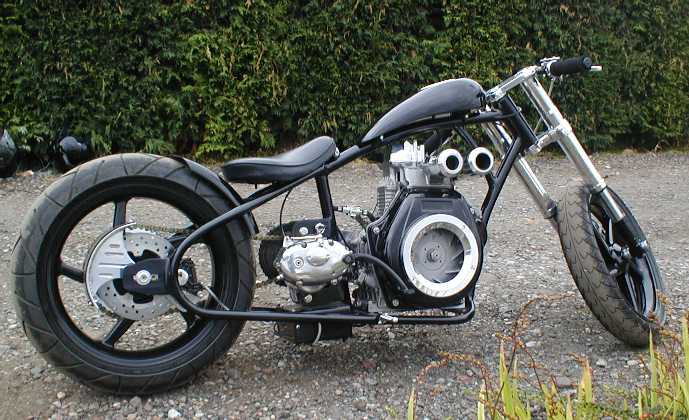 Last but not least, and a perfect example of the ingenuity of the Custom Bobber builder, is this diesel, cement mixer engined, black beauty. Built by Gaz's Custom Shack, it features a BSA gearbox and a clutch cover made from an old frying pan. Who said Custom Bobber builders don't have a sense of humor?