Nowadays pure electric vehicles share 66% of the global EV market. Sales growing faster than you can imagine. Every specific market has very different powertrain preferences which influenced the existence of so many different models with different performance and potential. International motorcycle sales are also trying to meet this tendency. So the results are companies such as Zero Motorcycles, Lightning, Brutus, Evoke and tons of others, not well-known companies, which intent is to rush over the new market.You can see around the streets everything from electric scooters through cruisers to top spec superbikes. Even Vespa and Harley are messing up with electrics and are going after selling electric motorcycles.
Another great trend by itself is the rising interest over the classic look of a custom cafe racer. A lot of guys make tremendous job while turning whatever machine you want into a great looking custom bike. Everything depends only on the customers choice. You can't blame people who like to cross the streets in something different than a Rossi edition R1, they just have some additional flavor. The main idea behind "custom" is the crucial attention to the details. Everything is done with great passion and fine touch. They don't have massive fairings and other plastics which wants to hide the blink of the naked frame, the shiny custom exhaust and the accent of perfectly fitting wheels. So we can put this bikes in a whole "new" league.
Those trends became an inspiration for the guys from the Australian based company called DENZEL MOTORS. They creating and developing electric vehicles since 2013. Since the beginning of 2018, they offered their Honda based electric cafe racer for sale or more likely for pre-order. In this market, there's no place for prejudices. The company invested a lot in their testing facilities to ensure the quality and the reliability of their electric motorcycle cafe racer.
At the end of the journey, Denzel finished by developing their own 7,5 kW direct drive motor and a powerful controller to operate it. And all this put in modified Honda 125 frame They've followed the very simple principle "add nothing to the machine unless it enhances the experience". The idea behind the powertrain results in a durable, low-maintenance custom electric motorcycle. The power is linked directly to the rear wheel through a constant tension chain. In this way, Denzel eliminates the friction losses which are generated in gears and clutches. The motorcycle also includes onboard 2,2 kW charger which needs only a 220/110v household outlet.
Now, I know that 7,5 kW sounds like a power for your son's pocket bike but let's see some info about the performance of the bike. Top speed is rated at 90 km/h with a range of 140 km at 45 km/h which is not very impressive but makes this electric cafe racer a perfect city commuter. I'm sure what follows next will make you feel better about the bike. It has maximum torque of 92.6 N-m which turns it in a fun-to-ride road beast and all of that torque is usable through the whole operation range of the mid-drive motor. Last but not least this cafe racer weights only 90 kilos, just a little more than your 20 years old bicycle. So the picture is not that bad and DENZEL MOTORS put this cafe racer for sale only for some 5000 bucks. It could be the best deal you've done this year if you want to amp up your riding.
For our bad we couldn't test the bike but as you can see the guys from Australia have done the job really good. They've fitted up the bike with 720 mm forks and 320 mm twin shocks at the back. The bike runs 140/70 front and back tires on an old school spline wheels, 4 pot front caliper on a 240 mm brake rotor and drum brake at the rear. Which is really enough for the performance and purpose of the bike and also gives it the soul for which cafe racer lover looking for. The seat height which is 750 mm and the design of the bike gives you very comfortable body position and a relatively low center of mass. So I general the bike should have enormous maneuverability around the tiny streets of Rockland.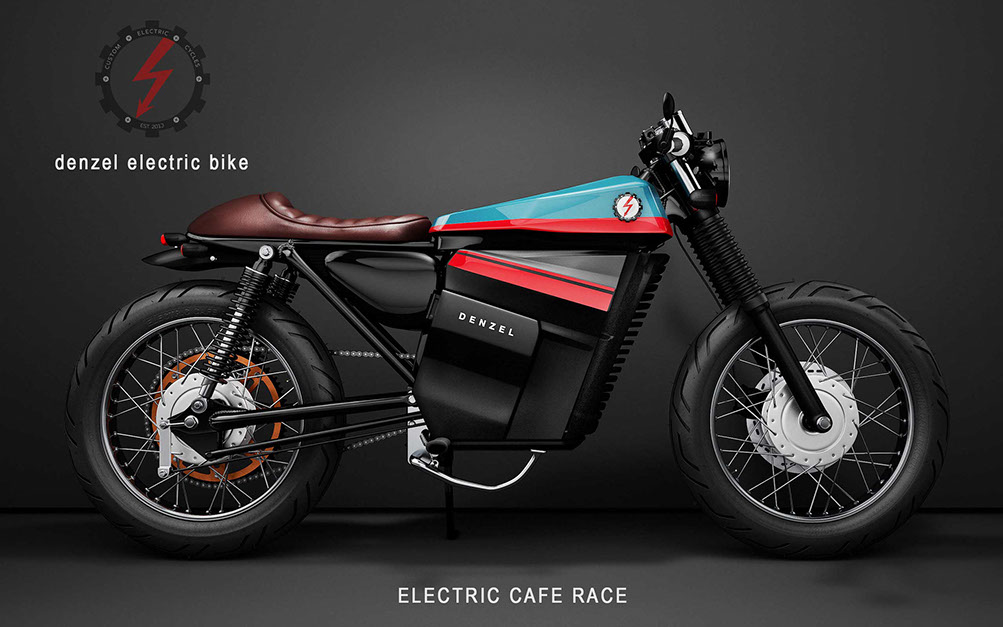 The color scheme is quite simple but still astonishing with this aqua blue base and red stripes. This suspiciously gives some room for the other interesting features as the battery panel on the top of the "fuel-cell"cover. When you can find information about what amps is the motor drawing from the battery pack, how much capacity left in the pack and what range could you expect from the rest.
To extend the range and to give you more comfort Denzel created their controller with a built-in system for regenerative braking, cruise control and a Bluetooth speaker. That's the way they are trying to show some respect for their customers and again this custom electric cafe racer is selling for only $5000.
That's nuts, they even found some place for tiny glove box where you can hide your mistress panties on your way home. I believe you won't need all these tools that you see because nothing can happen if you don't run out of amps. In conclusion, we beg you to go for this very interesting custom electric cafe racer and to share with us your experience with it which is no doubt will be incredible.
Photo credits: Denzel