Honda turned the motorcycle world upside down in 1969 with the 740-4, but it's a little known fact that Kawasaki had been developing their own version, almost along a parallel time scale. However, as a result of being pipped to the post, they delayed the launch until the bike could be upgraded to a 900, which upon its release in 1972, wiped the floor with the Honda in every department. But where was Suzuki in all this?
Well, the good folks at the Hamamatsu plant were busy banging out very popular three cylinder 2-strokes, but on seeing Honda and Kawasaki's explosive sales figures, decided to jump onto the big bore bandwagon with a bike they'd had on the drawing board for a number of years, the rotary engined RE5. And the rest as they say is history.
Thankfully, when the GS750 launched in 1977, the bike industry was so impressed with it they glossed over the fact that not only had the disaster on wheels that was the RE5 very nearly buried the company, but the internals of their new beast bore a striking resemblance to the Z1's lump.
So anyway, Suzuki's very first 4-stroke motorcycle was a runaway success, even when pitted against much bigger bikes, but its shelf life was to be comparatively short. Having revived the company's flagging fortunes, the GS750 was replaced by the 16 valve heavily face-lifted GSX750, the original GS being treated to a larger bore and a shaft-drive and wheeled out as the GS850.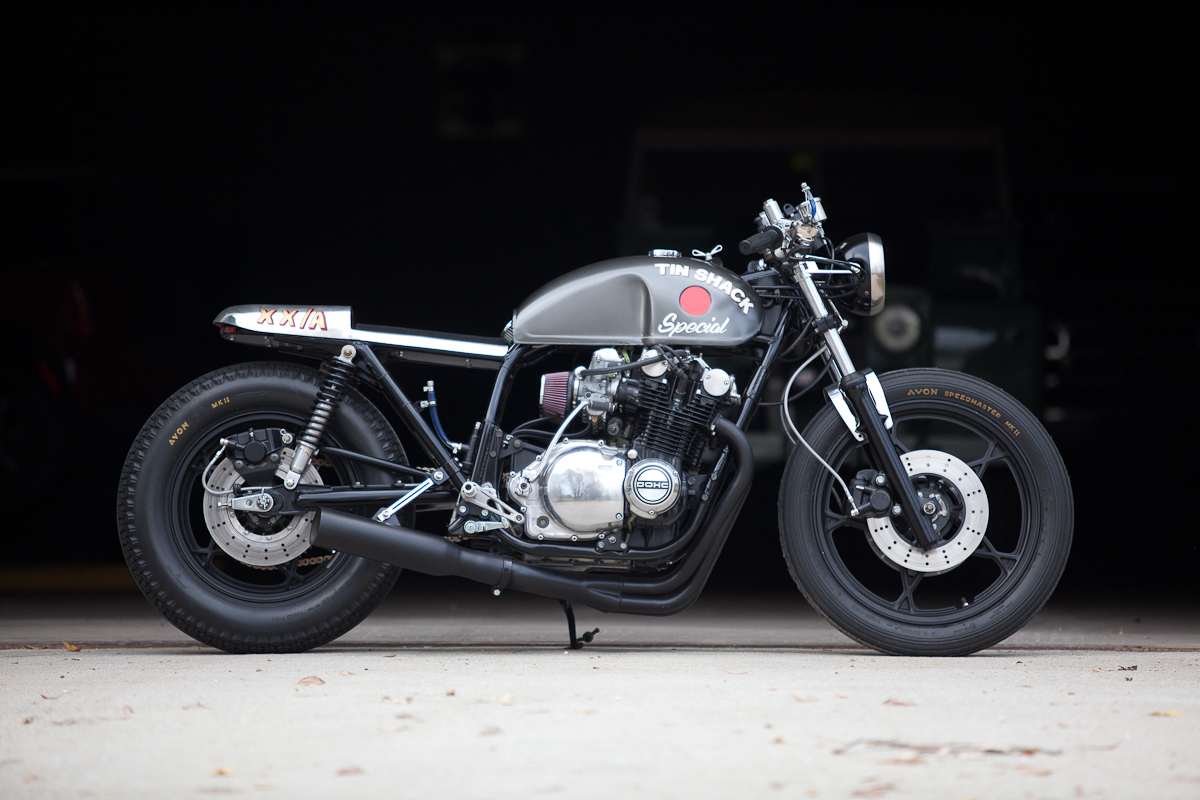 These two examples are both 1979 Suzuki GS750 vintage and come from very different parts of the world. The first was built by Land Rover specialists Tin Shack Restorations of Vermont and is based on an 'L' or Cruiser version of the GS750. "Not ideal," says Owner Colby Morris, as it had mini ape-hangers and a sissy bar, but underneath I could see a real point and shoot bike.
Being used to working on gnarly old Land Rovers for a living, stripping down the GS to its bare bones was no big deal. Sourcing the cool accessories for the rebuild took slightly longer however, but Colby used the downtime to fabricate the aluminum seat unit from three separate pieces.
South Africa is the location for our next custom builder, KCR Motorcycle Fanatix. Instead of going down the route of refurbishing the original, owner Alan has enhanced the GS with a combination of hi-performance parts from different bikes, such as the Yamaha Supermotard wheels which allowed him to use some sticky modern rubber.
A heavily re-worked GSXR swinging arm with piggyback shocks keeps the back end on track and the Rising Sun paint job really makes the bike pop.
Two similar bikes that have taken separate routes to arrive at a similar destination, one seriously cool Suzuki Café Racer.
Photos by: Zak/KCR Fanatix