Relying on their dominance of the 2-stroke market with a range of smoking twins and triples, Suzuki realized that in order to stay in the race they needed to throw themselves headfirst into the big bore 4-stroke market.
Their first entry was the GS750, which was an instant hit with both riders and motorcycle testers on both sides of the Atlantic. But when it came time to hit the middleweight market, the GS550 didn't exactly set the world on fire.
Not that there was anything wrong with it, according to the magazines at the time, it did everything so well it was almost bland. But weighing in at around 430lb with 50bhp on tap, it had a top speed slightly higher than the 750cc Honda, so performance of the GS wasn't an issue.
Like most of the early GS-4 cylinder bikes, the first generation GS550's are a tribute to Suzuki's build quality and there are still good examples around and common enough to keep the price reasonable.
This cool looking blue Suzuki GS550 Cafe Racer just screams classic, from its bum stopper seat to its vintage look half fairing. Built in Sheffield, England by Tony Garnham-Parks, the bike along with a whole series of stablemates ranging from a Brat style 125 Honda to a BMW K100, were built to showcase the Café Racer accessories from his company, The Complete Café Racer.
According to Tony, the donor bike had been crashed and laid-up for over 30 years and needed a complete top to toe re-build. 'The engine was seized solid, so we rebuilt the engine and bored the crank cases out to accept the GS650 barrels, pistons and head, making it 673cc. To feed in the fuel we added a set of GSX-R750 flat slide carbs mounted on GSX-R600 SRAD inlet rubbers, but it ran like a pig so we went back to CV's.'
'The exhaust started out as a Motad 4-1 which we modified to fit the head and then dumped the silencer and added our own GP2 style unit, which wails like you wouldn't believe,' says Tony. We did a dyno run and measured about 63bhp at the flywheel, it clocked 128mph, with a gear to go!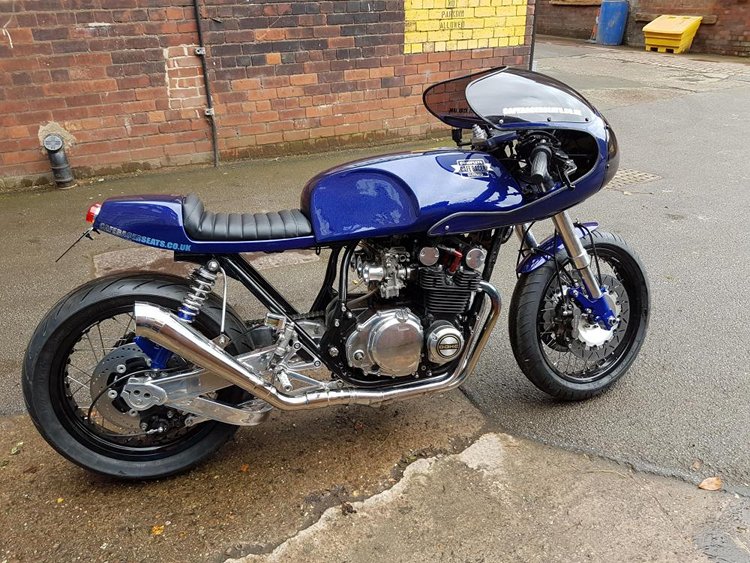 An aftermarket swingingarm was adapted to fit the frame and takes a 160 rear wheel, for which they had to make an offset front sprocket to get the chain to run true. At the front end is a set of upside-downers from a GSXR750, mated to Hayabusa six pot calipers on custom made discs.
And if that old-school bodywork looks familiar, then it's probably because it is, 'these are all fiberglass pieces we make ourselves,' says Tony proudly, the seat and tank cover have a Rickman look about them and the half fairing is pure vintage Avon.
Sometimes it's possible to make an old bike look at odds with its contemporary parts, but in this case it looks just perfect.