The fight for Cruiser domination in the marketplace was well under way by the mid 80's and although Suzuki had put a toe in the market with their Low Slinger or L series 4-cylinder line, the humble Suzuki Savage was the company's first real Cruiser.
The diminutive single-cylinder bike, with its classic 650cc displacement was the first real Suzuki Bobber and with its maintenance friendly belt drive, was a welcome change as it was clearly not trying to go down the Harley lookalike route. Furthermore, its low seat height and lack of weight made it more appealing to those not wanting to push some huge lump off its side stand every time they wanted hit the road.
But what is it about Japanese Cruiser model names? Ok I get ones like 'Vulcan,' the blacksmith to the gods is a pretty macho dude, but who the hell calls their bike after a bad tempered violent woman (Virago) or someone burglarizing your premises (Intruder)!
The poor old Savage fared no better as it was quite clearly the least savage bike on the market. Thankfully, its ironic name didn't put custom bike builders off when looking for a bike to act as a project base, and as a result we have some of the cleanest, nicest looking, single-cylinder Custom bikes around.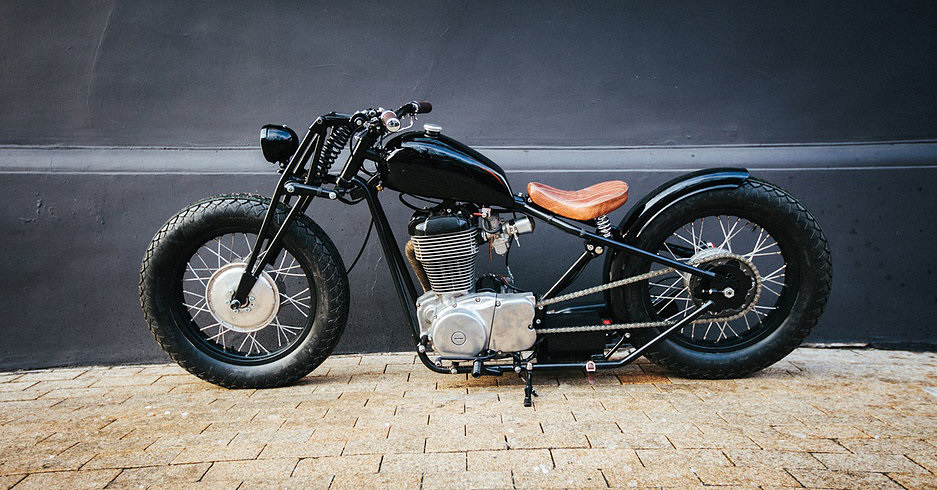 And one Suzuki Bobber that in my view typifies this style of customizing perfectly, is this one built by 53 Fast Living.  Apart from turning out exquisite minimalistic custom creations using everything from Sportsters to Kawasaki superbikes, the Moscow based custom shop also specialize in racing MV Augusta's. 'Racing,' they say 'is the best teacher and most objective judge and gives us priceless experience in construction and tuning.'
This less is more approach, has been utilized perfectly in the construction of the 0/2, their super clean Savage engined Suzuki Bobber.  This bike is as minimalistic as it gets, with everything that was not absolutely necessary to start and stop the bike thrown in the bin.
The small diameter rigid construction frame features a slight gooseneck and compliments the custom-made girder forks and matching 18'' wheels to give the bike a real pre-war look.
With drum brakes front and rear, footrests and controls made from aluminum, single saddle and only essential wiring hidden inside the frame, the process has resulted in a weight saving of almost 40kg, which together with a chain drive conversion and slight increase in horsepower, makes the 0/2 thumper quite a flying machine.
'Its just steel leather and some wires,' say 53FL, 'We've done our best to minimize everything but the style.'