OK, confession time, I am a serious fan of the 'Bobber.' Admittedly, the style is not everyone's cup o' tea, but there are two major factors that drove me to this particular style. Firstly, I can't imagine owning a stock bike for more than a day without reaching for the angle grinder. Secondly, my lack of mechanical skill coupled with zero patience, means that my 'custom mods' usually consist of dumping fenders, seat, bars and tank, to be replaced with whatever I can beg, borrow or steal from unsuspecting friends. And voilà, a Bobber is born.

This practice of course is not restricted to any one make of motorcycle and this is merely the bare bones of the whole Bobber genre, which like any branch of Custom Biking, encompasses everything from rats to showstoppers. But in this article, I'm going to take a look at one bike in particular that has gained a cult following worldwide and which has leant itself perfectly to this style, the Yamaha XS650.
Thanks to an overabundance of tv shows like American Chopper, Biker Build- Off and even those good ole boys from Charming, namely the Sons of Anarchy, we now have a vast army of armchair bro's who think any bike with an aftermarket accessory is a 'Chop', so just to clear-up the difference between a Chopper and a Bobber, here are some words of wisdom from John Ladstrom of Blue Moon Cycles.
'A Chop tends to be defined by a raked frame and elongated forks, whilst a Bobber uses factory dimensions with cut down, or 'bobbed' cycle parts and the modifications intended to make the bike more practical instead of stylized. Usually, a Chopper is ill-handling and unsafe and the whole idea of a Chopper is more to do with rebellion. Whereas a Bobber, owes its heritage to the big heavy stock bikes of the 40's with parts removed for performance enhancement. Incidentally, he concludes, 'the Bobber predates the Chopper by quite a considerable time'.
Hmm…, contentious perhaps and not a sentiment that I could ever imagine Chop builders like Billy Lane or Arlen Ness agreeing with, but it does explain how the Bobber cemented its place in the custom hall of fame as a fast, cheap way to personalize your ride. For a particular bike to become so iconic and be the go-to power plant, the XS650 had to go through a perfect storm of events.
The Yamaha 650 lurched onto the motorcycle scene way back in 1969, and whilst the over-engineered virtually un-burstable 650 cc parallel twin engine may have given British motorcycle manufacturers a collective heart attack, the rest of the bike didn't. Thanks to awful brakes, a frame better suited to a supermarket trolley and bendy forks, the poor old XS1 was about as popular with the motorcycle buying public as a hedgehog on a waterbed.
Thanks to input from motorcycle racing legend Percy Tait however, the later version fared much better and during its subsequent production history (1969-1985), a staggering 500,000 plus bikes rolled out of the Yamaha factory. With European bikes fetching a premium and Harleys being too pricey for the ordinary Joe to afford, let alone customize, the 650 Yam was plentiful, cheap and just crying out to be modified.
The classic dimensions of the parallel twin, with 'real bike vibration' from its iconic 650cc parallel twin engine, provided an excellent base and when in '79 the 'Special' was released with its custom looks and 16 inch back wheel, the bikes popularity as a Bobber base cranked-up a gear and the rest as they say is history.
And just to prove how endurable, popular and downright versatile the XS650 Bobber still is, here's my Top 5 Bikes from around the world, chosen for no other reason that I think they rock.
1. Yamaha XS650cc Bobber by Japanese builders Garaje featuring beautiful and stunning lines, using classic Bobber standard rake angle and rear suspension.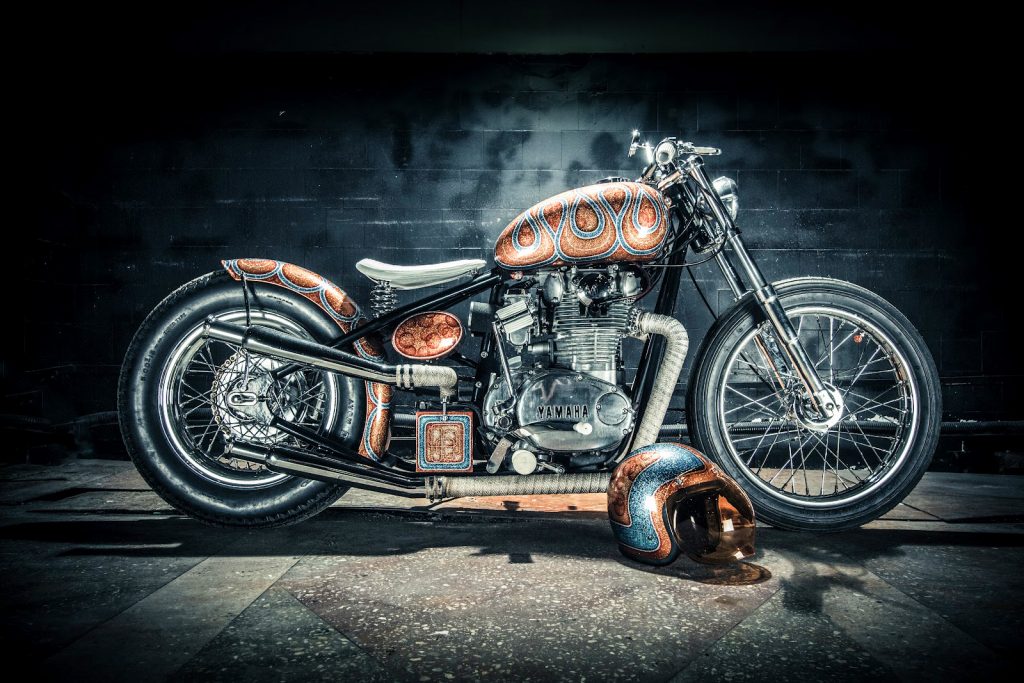 2. All the way from Australia, according to its owner Taffy, his late 70's Yam was a real heap before he went to work on it. Pic by owner.

3. This beautifully detailed example is the work of Tom Shaw from Holme Valley Customs in Great Britain. Pic by Dave Manning.

4. A metalflake masterpiece from DoZer Garage in Kiev, Ukraine. Pic by DoZer Garage.

5. Jeroen's '79 XS650 went from Japan to Canada before finding a home with him in Holland, where he bobbed it. Pic by owner.