Thanks to clever editing and large budgets, TV programs that involve customizing motorcycles often make it look devilishly simple. But not everyone knows one end of an angle grinder from another (ouch), and in those particular cases riders tend to keep an eye open for a Modern New Cafe Racer. 
Customized bikes are cool though, end of. But let's be honest, they're not always practical, never mind comfortable. This I can say with absolute authority, you're looking at the guy who rode an insanely tuned Triumph Café Racer through a traffic clogged central London on the hottest day of the year and lived to tell the tale (just).
So if a comfy seat, sensible ergonomics and an exhaust that doesn't deep fry the inside of your leg appeals, you may well be interested in my quick tour of modern Café Racers. Not to be mistaken with the plethora of ballistic missile race replicas sported by almost every manufacturer, I'm going to specifically look at the naked Café Racer.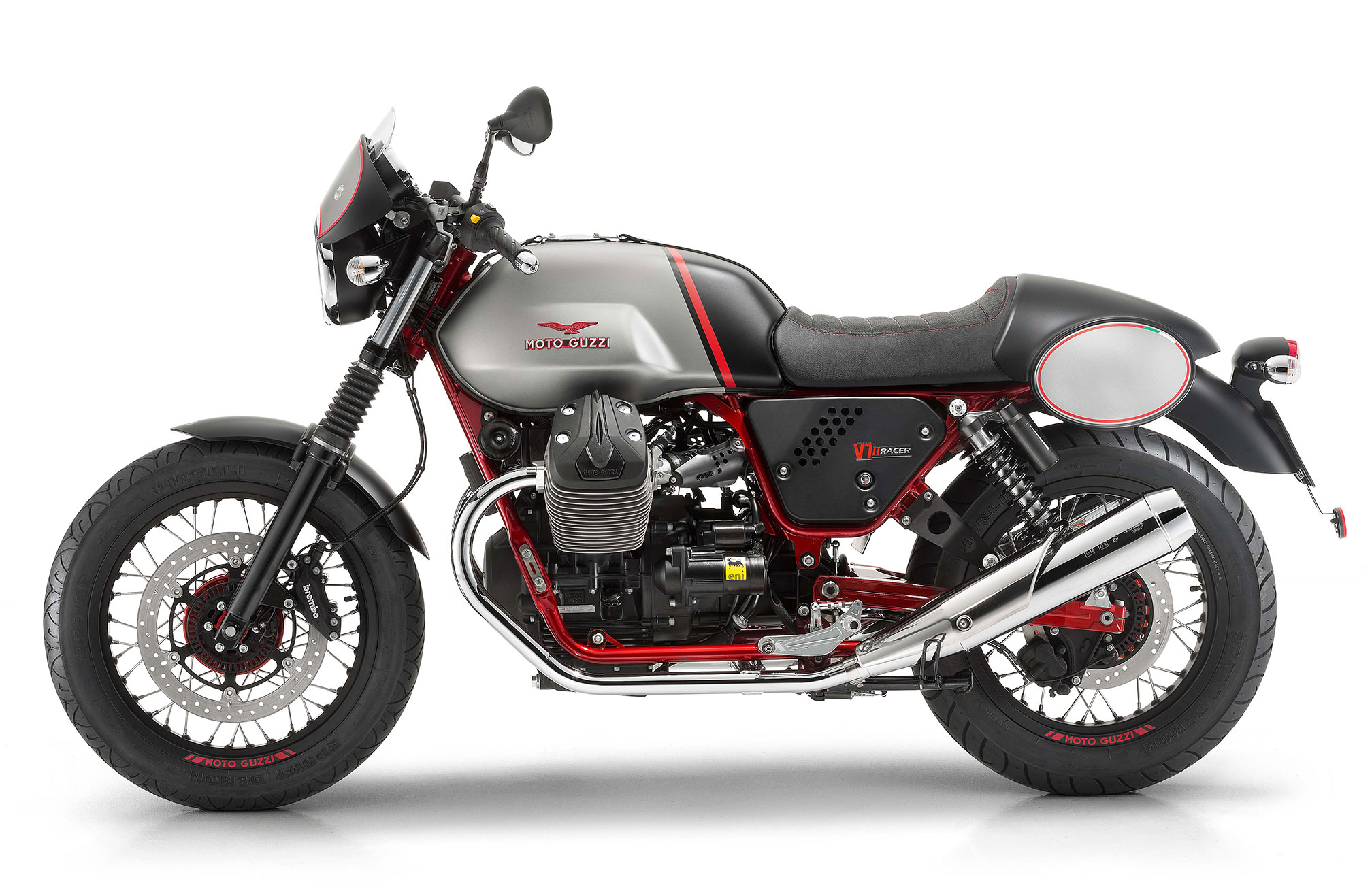 Moto Guzzi have been champions of the cause for many a year, launching their archetypal Café Racer, the V750S and later Le Mans in the mid 1970's. Today, they are keeping the theme alive with the V7 II Racer. The bike is pure retro in the looks department, with low bars, single look seat and no passenger foot-pegs, but bang up to date in terms of equipment with dual channel ABS brakes and traction control.
If any manufacturer has the right to launch a new Café Racer, its Triumph. They've got heritage stamped all over them, even if the new Hinckley models are light years away from their original namesakes. Their previous Café Racer offering, the tuned 900 Bonneville, was a bit of a wind bag but the new Thruxton 1200R finally has the looks and the stomp.
Now here's an interesting one. Adding to their V- twin Cruiser line-up with the XV950, someone at Yamaha decided to turn the laid back V- twin into this cool looking Café Racer. The XV950 Racer, says Yamaha, has low rider style with Café Racer attitude to create a new kind bike that defies convention. Sounds good to me.
Many believe that Ducati, with their single cylinder Desmos and half faired SS 750/900, were the ultimate factory Café Racers back in the 70's. Today, they're taking a leaf out of their own book with the launch of the Ducati Sixty2, an entry level 400cc bike that's a nostalgic nod to their 1960's Scrambler. Like Yamaha however, they've used the model to tweak into a New Cafe Racer. Called, not surprisingly, the Scrambler Café Racer, Ducati say it's an expression of free spirit and an emblem of style.