The very first Honda CB500 rolled off the production line in Japan in 1971 to great acclaim. Physically smaller and lighter than its 750cc big brother, the bike did everything well and in 1973, in the hands of ace racer Bill Smith, took first place in the grueling 500cc TT Production Race.
Urban legend has it, that the CB in CB500 stands for everything from City Bike to Chokusetsu Baiku (Japanese for personal motorcycle) but the truth is, it was just the next designated letter when the bike was on the drawing board.
Anyway, when people started buying them in droves it wasn't because of its catchy handle. But despite its bullet proof engine and much admired traditional looks, thanks to a distinctive tank shape and 4 into 4 exhaust system, the CB500 ended its production run in 1973. To be succeeded a year later by the faster but blander looking CB550.
Ironically, the best tribute to the CB500 came came not from its army of fans, but from Alejandro De Tomaso, boss of Italian motorcycle manufacturers, Benelli. In 1972 he told his R&D department to buy one and 'take inspiration' from it. Which they certainly did, unashamedly bringing out their very own 500 'Quattro' shortly after, and using the Honda engine as the basis for their 750-six.
Needless to say, with a production run of only 3 years, the CB500 has now become somewhat of a collector's item, but thankfully, a decent number of the bikes have escaped the confines of air conditioned garages and a life of nut and bolt restored perfection and have been transformed into great looking Café Racers full of character and still capable of taking a good thrashing.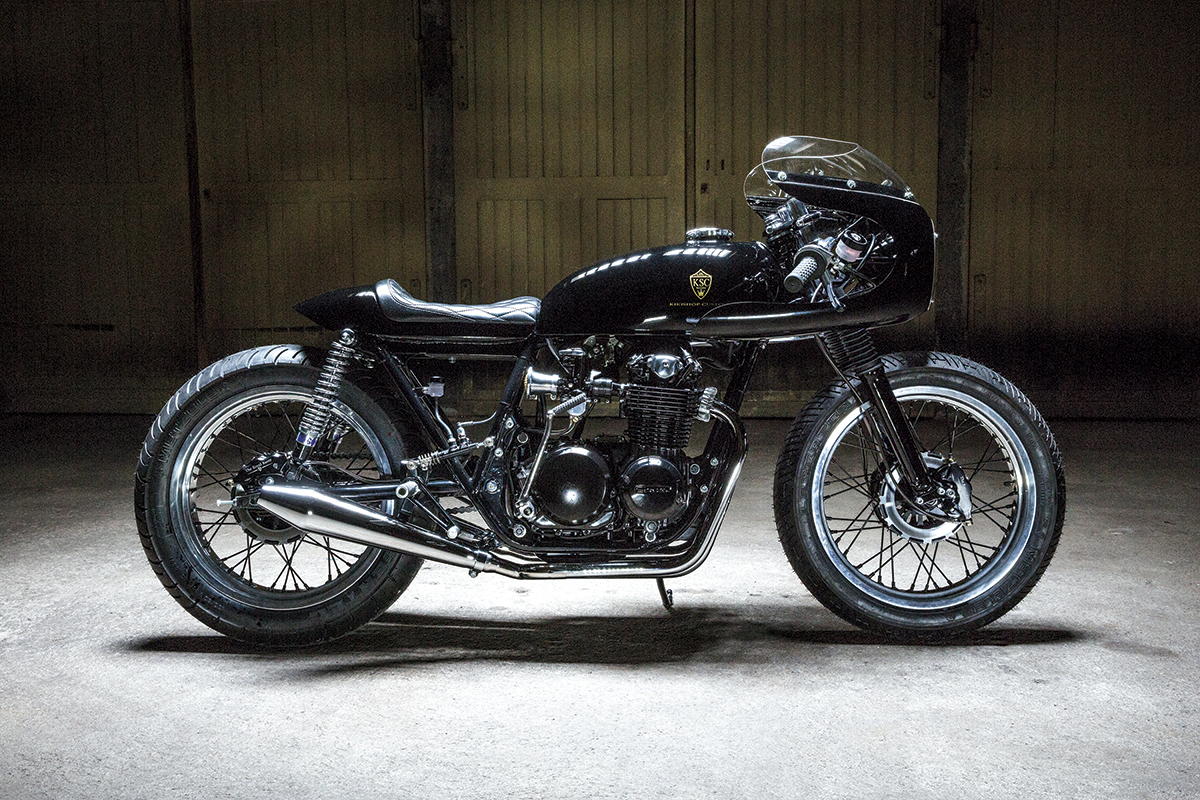 This first CB500 Cafe Racer was created around a 1973 model and was a collaboration between French motorcycle clothing retailer 'The Royal Racer' and French Café Racer king Jeremy of Kikishop Customs. The bike was built as a 2-wheeled ambassador for the apparel company and took just over 6 months to complete.  With clever touches like the mini lithium battery and Berringer hub brakes, the bike is a flowing mix of vintage style and modern technology, and in the classic Café Racer ethic, 'nothing was done that didn't add to or improve how the bikes handle and ride says Jeremy.
Our next Bike. Although strictly speaking, a CB550 and not a 500 (as incorrectly stated on just about every café racer blog site), without the influence of its smaller predecessor simply wouldn't exist. It's a total eye-popper and the heavily engraved aluminum really sets it apart, like some gritty metallic tattoo.
Built by Kevin Byrd and Willie B of Two Guys Garage, the bike features a custom-made mono-shock frame and swinging-arm and hand cast parts, such as the heavily pocketed tope yoke. Called 'Bushido' after the Samurai warriors who lived by a strict code of chivalric conduct, the CB550 Café Racer looks every inch the industrial work of art it is.