It's a Harley, but it doesn't feel like one. You bought your Softail for its iconic style and top-notch performance, but the stock seat leaves much to be desired. An upgrade can make a huge difference in comfort and convenience in such cases. There is a wide variety of seats available on the market that best suit you – from those with more back support to those more compact. All you have to do is pick the best fit for your needs!
I'll show you the best seat for a Heritage Softail Classic in this post. To assist you in making your purchase decisions, I've also included a comprehensive shopping guide. So, let's get started.
Best Seats for Harley Davidson Heritage Softail Classic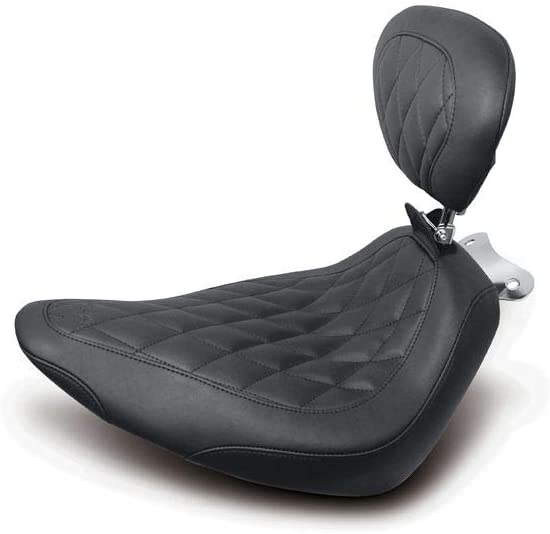 Are you looking to upgrade your ride with some serious comfort? Look no further than the Mustang Tripper Wide Solo Seat with Backrest! Featuring advanced comfort technology, this seat will make every ride a breeze, while the detailed stitch work and synthetic glove-leather cover add some serious style. Plus, the fully adjustable and easily removable design means you can tailor it to your exact needs.
Mustang has been the brand of choice for motorcycle aftermarket products since 1980. So, when you buy a product from them, you will get nothing but quality and comfort.
This seat is different from the one with a Heritage Softail family classic. It is more comfortable and looks nice. It has won the top spot on my list.
The manufacturers placed a premium on rider comfort and enjoyment, which is why they've introduced the Mustang's sophisticated comfort technology. This seat was positively reviewed by users and recommended for long-distance travel. Pleasant back support was added to take things to the next level of comfort and prevent you from getting sore backs. I appreciated how simple it was to remove the seat for cleaning.
It fits most of the Harley-Davidson Heritage family tree models. It is suited for FLHCS 2018-2020, FLHC 2018-2020, and so on.
This seat is the best for the Heritage Softail Classic. You can remove it to use it as a two-up seat, too.
Buyers review
This comfortable and stylish product ranks at 4.7 out of 5 stars on Amazon, with over 100 reviews. Customers rave about how easy it was to install (or remove) and its durability and design features like the detailed stitch work and synthetic glove-leather cover. If you're looking for some serious comfort without losing any style points, this may be just what you need!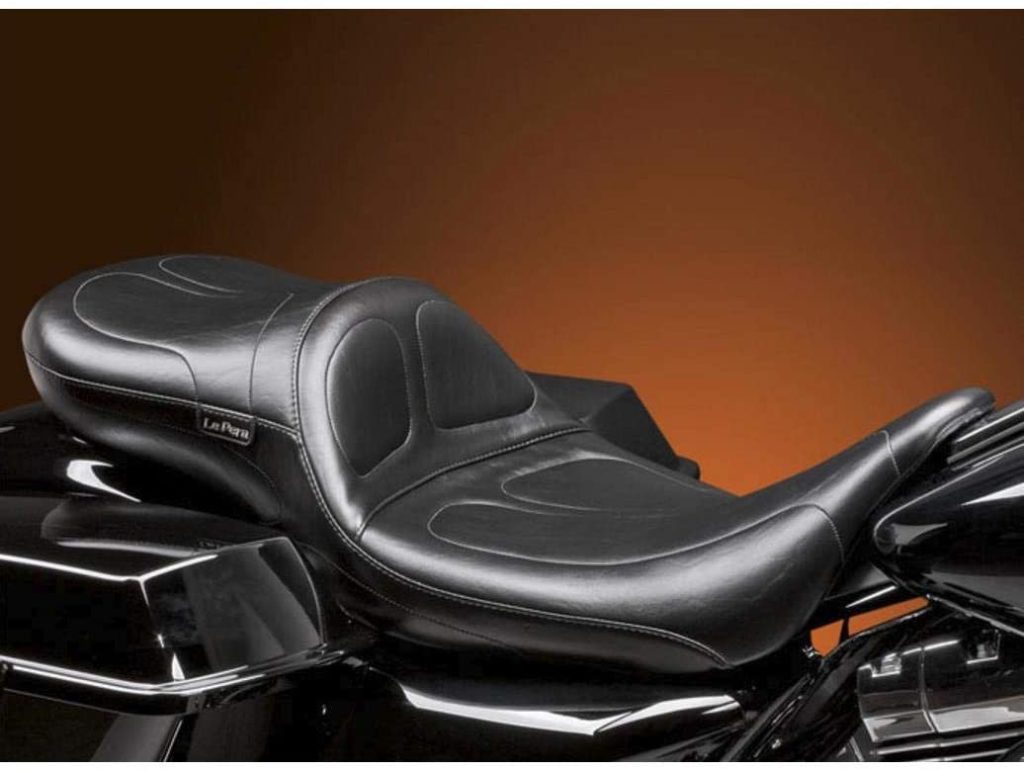 You're tall. You're heavy. It would help if you had a seat that could handle your body type without sacrificing comfort or style. That's where the Le Pera Maverick Stitch Daddy Long Legs comes in. This seat has been specifically designed with you in mind, featuring extra padding and a stylish (and sturdy) stitch pattern. So go ahead and take that cross-country road trip you've always wanted to – with the Le Pera Maverick Stitch Daddy Long Legs, you'll be sitting pretty the whole way there.
The Le Pera Maverick Stitch Daddy Long Legs is the perfect choice for the taller rider who needs more room to move back while still giving the passenger comfort. With its comfortable seat and custom look, this seat is an excellent addition to your bike. The molded one-piece foam foundation covered with premium-grade black vinyl on a 16-gauge powder-coated steel base plate provides good support and unrestricted movement, making it an excellent choice for any rider.
Buyers review
The Le Pera Maverick Stitch Daddy Long Legs is rated 4.7 out of 5 stars on Amazon, with some customers saying things like "I just got this seat, and it's great! I'm 6'4," and the best part about it is that there's plenty of room to move back, but not so much it crushes your butt or legs" while others say "The best investment for my bike yet!. The quality of this product was better than expected.". If you're looking for an attractive riding experience without compromising comfort, then this seat is your alley.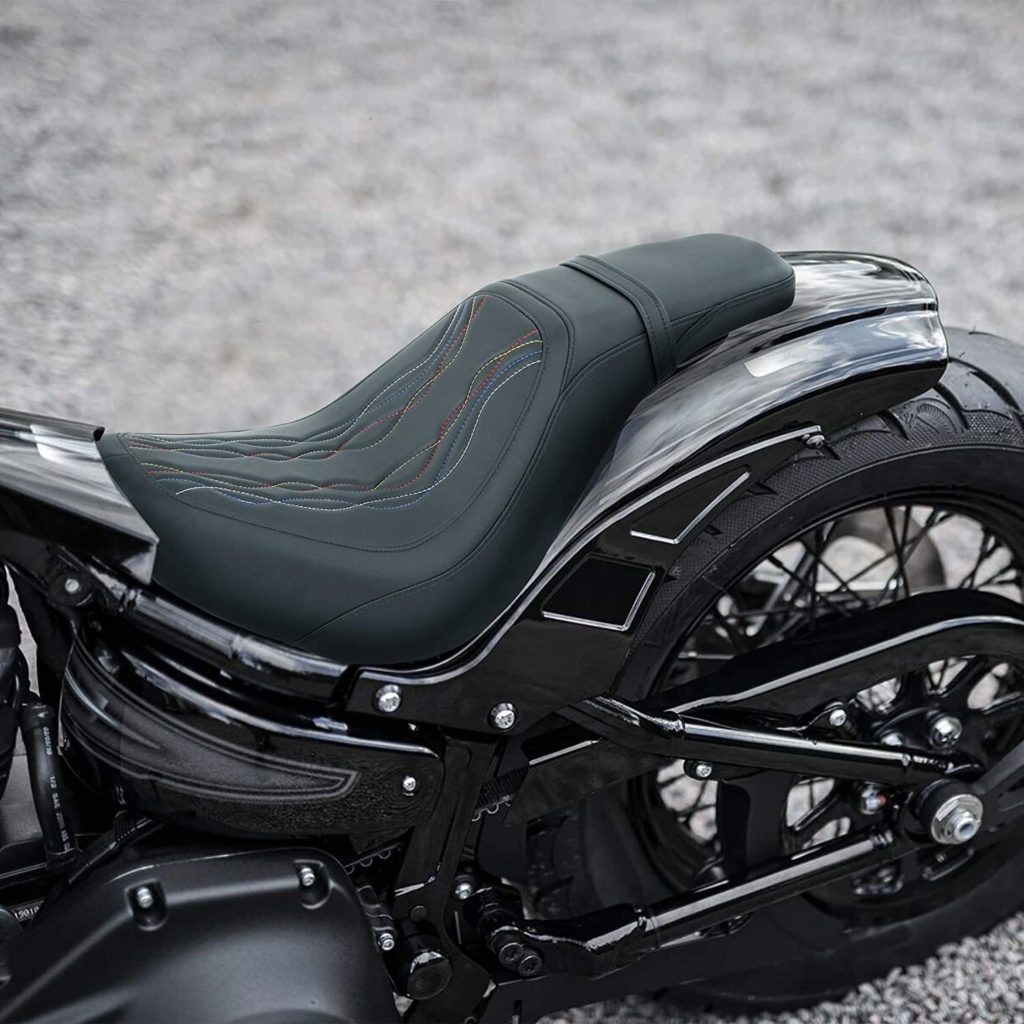 This Driver Passenger Pillion Seat is perfect for anyone looking for a budget-friendly upgrade! It's made of high-quality materials and is very convenient to use.
Hop on your bike with ease and comfort with the Driver Passenger Pillion Seat. This low design delivers a reduced seat height ideal for riders who want the shortest possible reach to the ground. At the same time, the long and lean shape allows tall riders to move back from the hand and foot controls without sitting higher on the bike. With this comfortable and stylish seat, you'll enjoy every ride!
On iron construction, they've padded the seat with foam and covered it in microfiber leather. So, it provides an enduring seat that delivers exceptional quality for this low price.
I appreciated the attention to detail paid to shorter and medium-size riders and tall ones. Taller riders can move back from the hand and foot controls without sitting higher on the bike unpleasantly due to its lengthy and lean form.
Although a backrest would be highly desirable, I can easily overlook it given the low price tag. But before I forget, it won't be as comfy as the other products on my list. So, to provide more comfort without raising significantly in height, I'd recommend you spend a little extra on a seat cushion with memory foam.
Buyers review
This Driver Passenger Pillion Seat is rated at an average of 4 stars out of 5 on Amazon. Some people say things like, "Great value for the money – no complaints, and I am very picky about such matters.". In contrast, others write, "I'm a tall guy (over six feet) who wanted more room between myself and the handlebars," which proves that this seat is perfect for anyone looking for a comfortable and stylish upgrade. If you're looking for an affordable way to improve your ride, then this seat is the perfect option for you!
The Best Seat For Heritage Softail Classic Buying Guide
A comfortable and well-made seat may completely transform your motorcycle riding experience. The Heritage Softail's stock seats are not as comfy as an aftermarket seat. However, not all of them are made equal.
So, how can you get the best seat for your Heritage Softail Classic? I have some advice.
I think it is best to consider your height, weight, and the riding you plan on doing when choosing a seat. Since comfort depends upon these factors for each individual, I'll give some guidelines that will help in your search.
The Material
The most crucial factor to consider is the product's construction material. Purchase from a reputable company like Mustang if possible. Their products are rigorously tested and proven to have exceptional quality, long life, and intricate stitching for years because of their high quality, durability, and thoroughness. You won't find comparable super-soft materials elsewhere.
The Fitment
When buying the best seats for a Harley Heritage Softail Classic, you should consider whether it is compatible with your vehicle or not. You can input your product's year, make, and model into the system to see if it's compatible. Alternatively, you may inspect their fitment area to see if your bike is listed there or not.
Another approach is to contact their customer care team. So, before buying, ensure that the item will fit your bike. Otherwise, there's no sense in purchasing a seat that doesn't fit your bike, and money will be wasted.
The Comfort
When you're out on a bike for an extended period of time, the most important thing is comfort. The air seat, deep sundowner seat, touring seat, and vinyl seat are all excellent choices for comfortable seats while traveling. Alternatively, you may use a motorcycle gel pad driver's seat; they have gel in them for added comfort.
The Price
Price is always a consideration, and you don't have to break the bank for a good seat. Mustang offers an excellent product with this Driver Passenger Pillion Seat priced very reasonably. You can also find other seats for a similar price or cheaper on Amazon.
The Height
Another consideration to take note of is the seat height. Most riders prefer a lower seat height since it provides more rider space. Furthermore, you obtain the lowest possible seat height because you have the shortest possible distance to the ground and foot control. Low standing height is essential for short riders. Long riders, on the other hand, may select either option.
The Longevity
The best material for the cover leather is high-quality synthetic glove leather. It's the finest when it comes to longevity. Make sure the stitching is well-designed and durable. Otherwise, it will come apart after a few uses due to poor stitching design and construction.
Frequently Asked Questions
Will the best seat for my Heritage Softail Classic make it more comfortable to ride?
Yes, a well-made and properly fitted seat will undoubtedly increase your comfort level when riding.
What is the difference between a Heritage Softail and a Heritage Softail Classic?
These two bikes are almost the same. The Softail Deluxe has a throttle control and cruise control, but the Softail Classic does not. Both have brakes and can be bought with a security system.
Is a Heritage Softail considered a touring bike?
The Heritage Softail is a good choice for people who want to tour. The bike has a great position, and it is easy to ride. The engine sits on the frame, slowing down vibrations with a counterbalancer.
Will a Softail Deluxe seat fit a Heritage?
The Harley-Davidson Softail's ultimate seats are a 2-piece construction, with separate rider and passenger seats. Heritage and Deluxe Softail seats are compatible with 2018 and later model years.
Final Words
The best seat for your Heritage Softail Classic may be a difficult thing to decide on. However, with this article's guidance, you should have no trouble getting it right! Make sure you consider all factors when deciding what is best for your motorcycle riding experience; comfort, durability, price point, compatibility are just a few things to keep in mind before purchasing that perfect seat.