Yamaha's XS850 finally ended its production run in 1981 and although it may not have set the world on fire, it certainly made enough firm friends on both sides of the Atlantic to be sadly missed.
More refined than a twin but lighter than a four, triple cylinder engines in both 2- stroke and 4-stroke configurations had been pushing bikes along for quite some time before the Yamaha XS750 was announced. But when it made its grand European debut, at its press launch in Marrakesh, it certainly made an impression.
Released in 1976, first in Japan and then America, the original C series XS750 came with a 3 into 1 exhaust, twin overhead cams, MkI Mikunis and three sets of contact breakers. Despite the potential difficulties with ignition timing come servicing time, the 64bhp shaft-driven triple was smooth, well-equipped and handled well enough for Cycle World to christen it, the 'Bargain BMW' and rating it as one of the world's top 10 bikes!
By the time the triple hit the UK, the bike had gained twin silencers and a slight style upgrade. Whilst a year later, niggling problems with the engine had been sorted, electronic ignition installed and MK II Mikunis with a 2-stage choke, the big XS was selling well. 1978 was also the year Yamaha introduced the SE 750, with its peanut tank and chopped down seat and silencers, it was Yamaha's entry into the power Cruiser market.
Yamaha started the new decade with the natural evolution of their big triple when they took displacement out to 826cc by borrowing pistons from its big brother (XS1100) and badging it the XS850. And to prove that Yamaha had been listening carefully to customer feedback, the engine sported a more robust crankshaft, wider primary chain, electronic ignition and improved oil ways. To cope with the extra horses, the frame received some attention too along with new mounting hardware for the swinging arm.
Perceiving European riders as more tour-orientated and presumably having to put up with worse weather, the UK market machines had larger 5-gallon gas tanks and humongous 8'' headlights. Surprisingly, the following year saw the Yamaha XS850 fizzle out of production, but not before the rather cool looking black and gold XS850 Midnight Special eased on to the scene.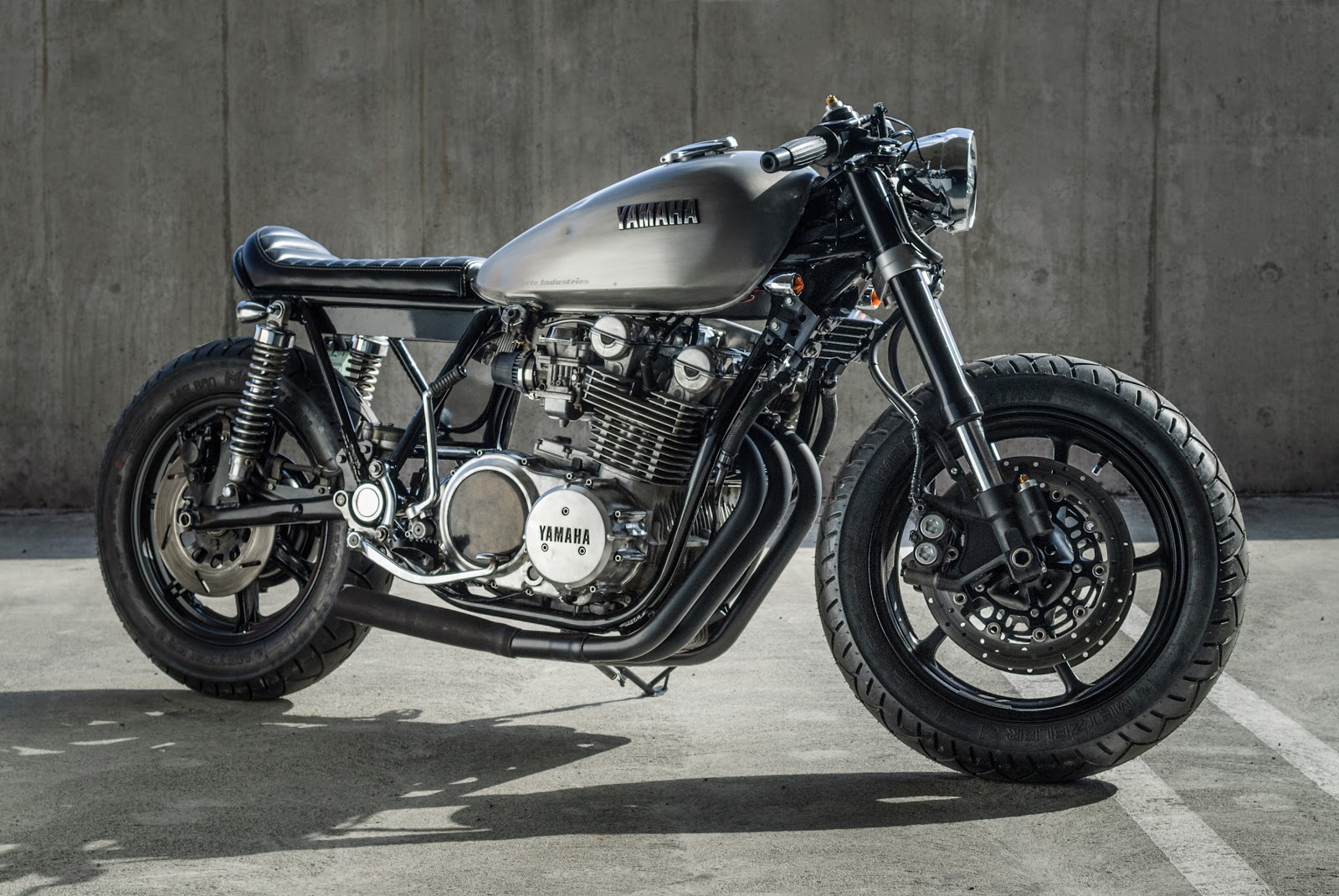 Of course, any bike with a fine looking lump of an engine and a frame that doesn't present any serious headaches for modification, is bound to draw attention. So everyone from home-build enthusiasts to full on custom bike builders have cast a spanner over the big triple. However, although chopped examples do exist out there, the Yamaha XS850 makes one hell of a handsome Café Racer.
Incidentally, Yamaha have recently taken a leaf from their own back catalogue and released the XSR900, which is yes, you guessed it, a naked 4-stroke triple. You just can't keep a good bike down.